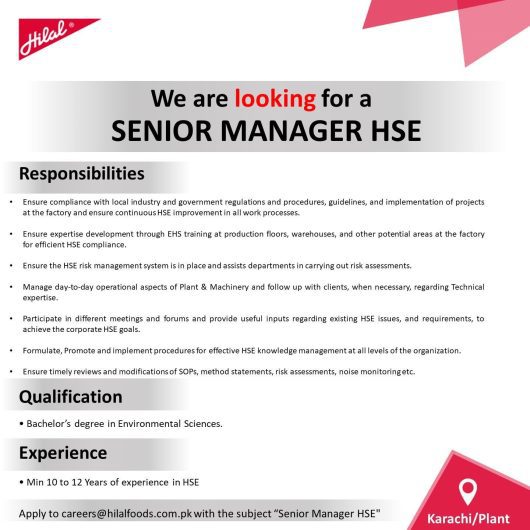 Hilal Food is Looking for Senior Manager HSE at Karachi Plant
Hilal
We are looking for a
SENIOR MANAGER HSE
Responsibilities
Ensure compliance with local industry and government regulations and procedures, guidelines, and implementation of projects
at the factory and ensure continuous HSE improvement in all work processes.
Ensure expertise development through EHS training at production floors, warehouses, and other potential areas at the factory
for efficient HSE compliance.
Ensure the HSE risk management system is in place and assists departments in carrying out risk assessments.
Manage day-to-day operational aspects of Plant & Machinery and follow up with clients, when necessary, regarding Technical
expertise.
Participate in different meetings and forums and provide useful inputs regarding existing HSE issues, and requirements, to
achieve the corporate HSE goals.
Formulate, Promote and implement procedures for effective HSE knowledge management at all levels of the organization.
Ensure timely reviews and modifications of SOPS, method statements, risk assessments, noise monitoring etc.
Qualification
• Bachelor's degree in Environmental Sciences.
Experience
• Min 10 to 12 Years of experience in HSE
Apply to [email protected] with the subject "Senior Manager HSE"
Karachi/Plant